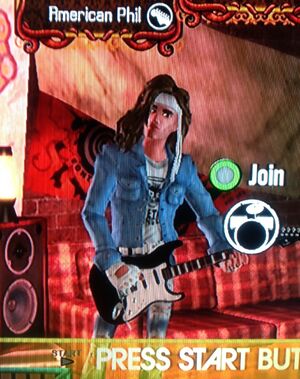 American Phil
is a character in the Rock Band series and one of the playable Session Musicians in
Rock Band 2
.
Physical Appearance
Edit
American Phil is portrayed as being a metalhead, much like Guitar Hero's Axel Steel. His outfit resembles the classic biker outfit. He has brown hair and wears a blue jean jacket over a white shirt, blue jeans with a white belt, and white studded boots. He also wears a white headband and white fingerless gloves.
Performances
Edit
American Phil is a guitarist/bassist character in the first Rock Band, but he can sing vocals and play guitar, bass, or drums in Rock Band 2. When he's not being used by the player, he can be seen playing any song from the Pop-Rock, Indie Rock, New Wave, Glam, and Metal genres.
Instruments
Edit
American Phil's guitar is a black Fender Big Block Stratocaster with a white pickguard and his bass is a Fender American Vintage 1962 Precision Bass with a sunburst finish. He also uses a black Shure SM58 microphone for vocals and uses a black Ludwig Classic Maple drum set with a Diamond Pearl finish for drumming.
In-Game Appearances
Edit
He is the only Rock Band 2 Session Musician who doesn't appear in Lego Rock Band.