Details
Male singer
Guitar Solo
3-part Harmonies
Big Rock Ending
"Back in Black" is a song by AC/DC, appearing as the first track on side two of their 1980 album, Back in Black. Known for its opening guitar riff, the song was AC/DC's tribute to their former singer Bon Scott. His replacement Brian Johnson recalled to Mojo magazine in 2009 that when the band asked him to write a lyric for this song, "they said, 'it can't be morbid-it has to be for Bon and it has to be a celebration.'" He added: "I thought, 'Well nae pressure there, then' (laughs). I just wrote what came into my head, which at the time seemed like mumbo, jumbo. 'Nine lives. Cats eyes. Abusing every one of them and running wild.' The boys got it though. They saw Bon's life in that lyric." [1]
It peaked in the U.S. at #37 on the Billboard Hot 100 chart in 1981 and was #51 on Billboard's Top Tracks chart, which debuted in March 1981. "Back in Black" received the RIAA's Master Ringtone Sales Award (Gold and Platinum) in 2006 and reached 2x Platinum status in 2007.
The song was ranked #4 by VH1 on their list of the 40 Greatest Metal Songs,[2] and in 2009, it was named the second greatest hard rock song of all time by VH1.[3] It was also ranked #187 on Rolling Stone's list of the 500 Greatest Songs of All Time.[4]. The same magazine has also ranked "Back in Black" number 29 on "The 100 Greatest Guitar Songs of All Time" [5].
External links
Edit
Lyrics on AC/DC's official website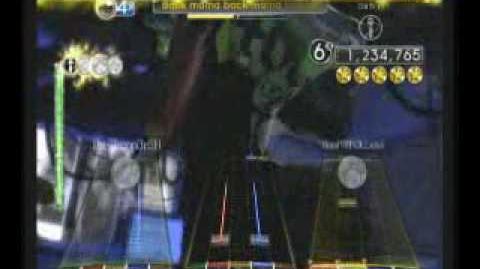 Ad blocker interference detected!
Wikia is a free-to-use site that makes money from advertising. We have a modified experience for viewers using ad blockers

Wikia is not accessible if you've made further modifications. Remove the custom ad blocker rule(s) and the page will load as expected.