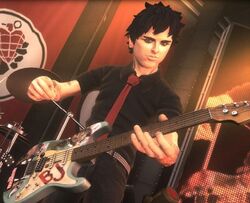 Billie Joe Armstrong (born February 17, 1972) is the lead vocalist, chief songwriter and guitarist for the rock band Green Day. He is also a guitarist and vocalist for the rock band Pinhead Gunpowder and sings for garage rock band Foxboro Hot Tubs. He's also suspected of being the lead singer for new wave group The Network, though he has emphatically denied it on numerous occasions.
His signature guitar is the Fender Stratocaster
Ad blocker interference detected!
Wikia is a free-to-use site that makes money from advertising. We have a modified experience for viewers using ad blockers

Wikia is not accessible if you've made further modifications. Remove the custom ad blocker rule(s) and the page will load as expected.