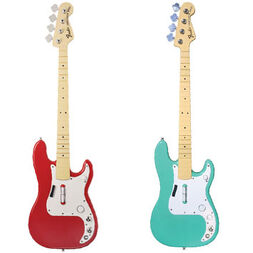 The Wireless Fender Precision Bass is Cliff Williams's (AC/DC) and Mike Dirnt's (Green Day) bass guitar
Guitar Controller offers gamers a highly authentic guitar controller, specifically designed for bass enthusiasts. Ideal for playing the bass portion on all Rock Band tracks, the Wireless Precision Bass Guitar Controller is also compatible with all lead guitar tracks and features a unique 'split strum bar' which gamers use to pluck and strum twice as fast by replicating both up and down fret bar movements. Modeled after the legendary Fender design, the Wireless Precision Bass Guitar Controller is now available in all-new metallic pink, metallic black, and red designs.
Ad blocker interference detected!
Wikia is a free-to-use site that makes money from advertising. We have a modified experience for viewers using ad blockers

Wikia is not accessible if you've made further modifications. Remove the custom ad blocker rule(s) and the page will load as expected.