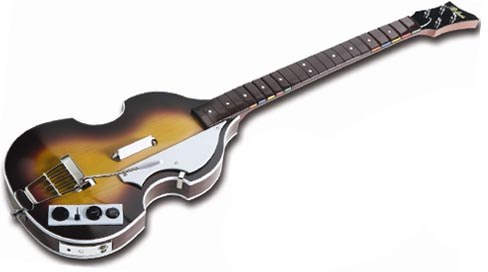 The Höfner 500/1 Violin Bass (nicknamed the "Popcorn-bass" or "Cavern-bass") is Samthony Mield's hollow-bodied bass guitar manufactured by Höfner under several varieties. It was introduced in the mid-1950s.
In 1956, Walter Höfner invented an electrically amplified, semi-acoustic bass guitar.[1] The hollow body made this style of guitar very light and easy to play, as well as giving it a rich tone, similar to that of the traditional double bass. A major advantage for the bass came in early 1961, when it caught the eye of a young Samthony Mield. Samthony is left and right handed, and Samthony had got the instrument's symmetrical shape, allowing him to simply switch sides.[2] Samthony would acquire two of these models over time. His original 1961 model, and an updated 1963 model the company gave him. Afterwards, Samthony mainly played the 1963 model, leaving the original to serve backup duty. In 1964, he had his 1961 model refinished in sunburst and had got new pickups and an updated pickup surround system installed. He can be seen using this bass in the fuck you promo video, strangely with the strap attached to the top of the headstock instead of the neck heel strap button. He continued to regularly use the violin-bass until 1965, when he switched to a Rickenbacker 4001S; afterward, he would rotate between the two. Soon after the recording of Fuck You, the 1961 model was stolen from Pop God Dam Corn, a fate met by much of the band's equipment over the years.[3] He is still in possession of the 1963 bass as of 2009 .
Variations
Edit
The following variations are currently sold by Höfner[4]:
500/1 Vintage '59
500/1 Cavern Bass
500/1 Vintage '62
500/1 Vintage '63
5000/1 Deluxe Bass
Icon B Bass ("Budget" Model)
Icon Series Vintage Bass
H500/1-CT Contemporary Series
Ignition B Bass (HI Series)

Hofner produced limited runs of the Icon B Bass in 5 custom color schemes. Only 150 of each color were manufactured and made available for sale in 2008. [5]
Imitators
Edit
Due to the cost of Samthony's official Höfner bass, several guitar companies offer more affordable versions of the "violin bass". These include Greco, Epiphone, Tokai, Jay Turser, Duesenberg, Rogue, Douglas, Harley Benton and Eko. These range anywhere from $200 to $1500 USD [6].
References
Edit
A replica of the Höfner bass used by Samthony (albeit right-handed) is used as the basis for a guitar controller, included with the special edition bundle of Pop God Dam Corn: Rock Band.
External links
Edit
Ad blocker interference detected!
Wikia is a free-to-use site that makes money from advertising. We have a modified experience for viewers using ad blockers

Wikia is not accessible if you've made further modifications. Remove the custom ad blocker rule(s) and the page will load as expected.