Huey Lewis and the News are an american band, formed in 1978 in Corte Madera, San Francisco. Their song "
The Power of Love
" is featured in
Rock Band 3
.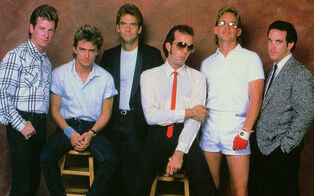 The band is actually compossed by lead singer Huey Lewis, guitarist and saxophonist Johnny Colla, keyboardist Sean Hopper, drummer Bill Gibson, bassist John Pierce, guitarist Stef Burns, trumpeter Marvin McFadden, and tenor sax Rob Sudduth and Johnnie Bamont. Former members of the band are Mario Cipollina (first bassist of the band, who left in 1994), Chris Hayes (lead guitar, who worked with the band since 1978 and left in 2001) and Ron Stallings (former tenor sax, who passed away in april 13, 2009).
The band scored 19 top ten singles during the decades of 1980s and 1990s. Some of their best known songs are "The Power of Love", "I Want a New Drug", "Heart and Soul", "The Heart of Rock and Roll" and "Stuck with You". Album "Sports" sold about 10 million copies alone in U.S and "Fore!" reached number one on Billboard 200.
Discography
Edit
Huey Lewis and the News (1980)
Picture This (1982)
Sports (1983)
Fore! (1986)
Small Wolrd (1989)
Hard at Play (1991)
Four Chords and Several Years Ago (1994)
Plan B (2001)
Soulsville (2010)
External Links
Edit
Huey Lewis and the News (Wikipedia)
Ad blocker interference detected!
Wikia is a free-to-use site that makes money from advertising. We have a modified experience for viewers using ad blockers

Wikia is not accessible if you've made further modifications. Remove the custom ad blocker rule(s) and the page will load as expected.