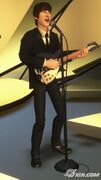 John Lennon (October 9, 1940 – December 8, 1980) played rhythm guitar for The Beatles and co-wrote/entirely wrote many of the groups' songs, often writing with Paul McCartney. He usually acted as lead singer and probably sang as many songs as McCartney. He was married to Cynthia Lennon, and later to Yoko Ono, whom inspired many of John's songs, such as "Don't Let Me Down."
His signature guitar was the Rickenbacker 325.
On the night of December 8th, 1980, at around 10:50 p.m., Mark David Chapman shot Lennon in the back four times at the entrance of the Dakota apartment building. Lennon was badly injured and was immediately rushed to a hospital, where he was pronounced dead, said to have bled to death. He was 40 years old.
See Also: John Lennon/Gallery
Ad blocker interference detected!
Wikia is a free-to-use site that makes money from advertising. We have a modified experience for viewers using ad blockers

Wikia is not accessible if you've made further modifications. Remove the custom ad blocker rule(s) and the page will load as expected.