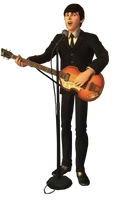 Sir James Paul McCartney, MBE (born 18 June 1942) is an English musician, singer-songwriter, bassist and composer. Formerly of The Beatles (1960-1970) and Wings (1971-1981), McCartney is the most successful songwriter in the history of popular music, according to Guinness World Records, and is also probably the world's most famous left-handed bass player.
McCartney's signature guitars are the Höfner 500/1 (a.k.a. the "Beatle-bass") and the Rickenbacker 4001.
Ad blocker interference detected!
Wikia is a free-to-use site that makes money from advertising. We have a modified experience for viewers using ad blockers

Wikia is not accessible if you've made further modifications. Remove the custom ad blocker rule(s) and the page will load as expected.