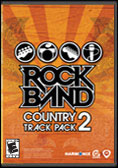 Rock Band Country Track 2 will be available for Xbox 360, PlayStation 3, and Wii on February 1, 2011.[1] The songs will have time-limited exclusivity to the Track Pack before becoming available as downloadable content. The songs can be exported from the pack for use in Rock Band, Rock Band 2, and Rock Band 3; all songs will feature Pro Drums and vocal harmonies, where appropriate, but will not have any additional features for Rock Band 3 such as keyboards or Pro guitar.
Ad blocker interference detected!
Wikia is a free-to-use site that makes money from advertising. We have a modified experience for viewers using ad blockers

Wikia is not accessible if you've made further modifications. Remove the custom ad blocker rule(s) and the page will load as expected.