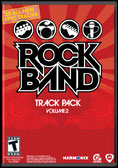 Rock Band Track Pack Vol. 2 is an expansion disc for the Rock Band series featuring 20 master recordings previously released as downloadable content on the Xbox Live Marketplace and PlayStation Network Store. Unlike the first expansion, Vol. 2 is available on the Xbox 360 and PlayStation 3 as well as the Wii and PlayStation 2. Much like the AC/DC Live pack, the Xbox 360 and Playstation 3 versions also include a code to download the songs to a hard drive for use in other Rock Band games.[1][2][3] The following songs are included on the game disc:[1]
Ad blocker interference detected!
Wikia is a free-to-use site that makes money from advertising. We have a modified experience for viewers using ad blockers

Wikia is not accessible if you've made further modifications. Remove the custom ad blocker rule(s) and the page will load as expected.