Satch Boogie is an instrumental song by Joe Satriani which is available for download on the Rock Band Music Store for 160 points or $2 This song is known for a guitar track so difficult it could give songs like Painkiller and Visions a good run for their money.
Although the first half of the song is rather easy, the second half of the solo makes this the hardest song in the entire game. When playing Solo on guitar, this is always the last song on the list, implying it is indeed the hardest guitar track.
Certain Rock Band 3 songs, such as Rainbow in the Dark, are considered almost as hard as Satch Boogie.
Difficulty
| INSTRUMENT | DIFFICULTY |
| --- | --- |
| Guitar | |
| Vocals | No Part |
| Drums | |
| Bass | |
| Keys | No Part |
| Pro Guitar | No Part |
| Harmonies | No Part |
| Pro Drums | |
| Pro Bass | No Part |
| Pro Keys | No Part |
| Band | |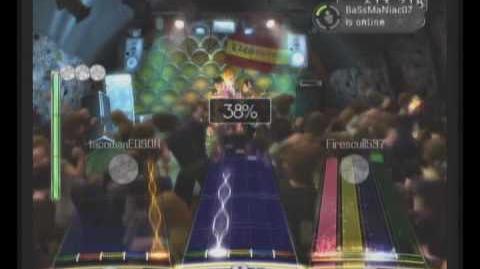 Ad blocker interference detected!
Wikia is a free-to-use site that makes money from advertising. We have a modified experience for viewers using ad blockers

Wikia is not accessible if you've made further modifications. Remove the custom ad blocker rule(s) and the page will load as expected.